DONATE NOW
We have been overwhelmed with the number of people supporting the mission of ending homelessness in Scotland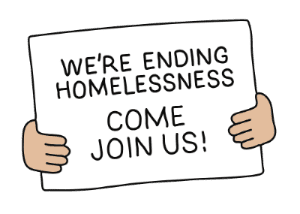 . Donations of all sizes have helped us to find inspiring ways to make Scotland a safe place to call home from building the Social Bite Village to helping launch Scotland's Housing First programme.
We need to keep the momentum going and to do this we continue to need the support of people like you. Anything from £5 to provide a hot meal to £100 to help provide support for people on the Social Bite Academy – all donations will make a massive difference.
Supporting Regularly
The more regular support we receive the more we can do.  We believe in a Scotland where homelessness no longer exists. Help us to get there by signing up to a monthly donation today. We'll send you regular updates on our programmes and make sure you're among the first to hear about upcoming announcements.
Gift Aid
Make your donation go even further by adding gift aid along with your contribution. You can do this by reading the declaration on the online form below and ticking the box that applies to you. Otherwise, if you're choosing to pay by alternative means then please complete and return our online gift aid form here.
If you wish to pay by BACS transfer, please contact us and we will provide you with the details.
For other ways to donate click here.