We deliver fresh, handmade products from our Central Kitchen in Livingston direct to your office for your all important meetings or social gatherings. Choose from a range of delicious sandwiches, wraps and salads as well as breakfast items. We offer a more fulfilling lunch by directing profits from your order to the mission of ending homelessness in Scotland.
Our food is made with fresh, local ingredients which means that it is subject to change and somethings may not be available. Find our seasonal menu below. 
If you'd like to speak to someone in the team, please email orders@social-bite.co.uk and a member of the Social Bite Delivers team will be in touch.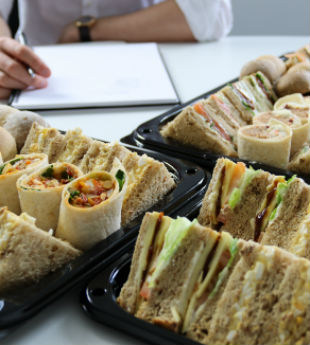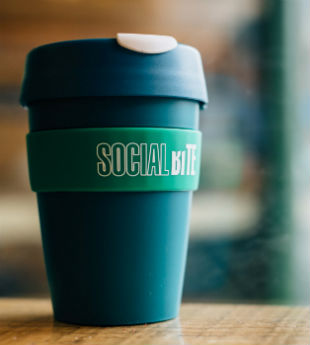 Profits from your order will go towards…
• Helping to provide employment opportunities to people experiencing homelessness.
• Helping to house more than 800 people through 'Housing First Scotland'.
• Helping to provide more than 140,000 items of free food and drink each year.
• Supporting the movement to end homelessness in your city and Scotland.
Thank you for your support.
READY TO ORDER?
Watch our demonstration video to guide you through the process.
Some small T&Cs apply to help us bring you the best customer service possible!
Please place a minimum order value of £20
A £5 delivery fee will be charged on all orders under £50
Please place all next-day orders before 2:30pm; otherwise we cannot guarantee next day delivery
"Delivery on time and food delicious!"
Charlene Stafford, Edrington-Beam Suntory
"We use Social Bite regularly for our lunches and the service we receive is fantastic! The quality, as well as the variety of the lunches, is excellent. Thank you, guys! You do an amazing job!"
Jacqui & Mark, Audit Scotland
"Great feedback from all our visitors who enjoyed the food. We will definitely be using your services again! Thank you 🙂 "
Niamh Allison, Sandisk Scotland ltd
"Wonderful food ... wonderful service... and so easy to order. Thank you."
Alex, Godly Play Scotland
"Very easy to order, great quality as usual "
Lucy Ozanne, Law Society of Scotland