TAKE ACTION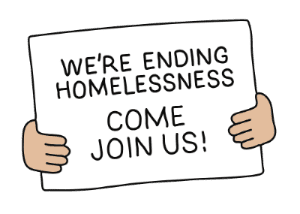 All that has been achieved so far wouldn't have been possible without people coming together to support people.
We believe in a Scotland where everyone has a safe place to call home and we're incredibly proud to be a part of a nation that has joined together to call for an end to homelessness.
Join the Movement
More than 18,000 people collectively raised £8M in campaigning for change through our Sleep in the Park events in 2017 and 2018 – which in 2019 grew into a global campaign called the World's Big Sleep Out where more than 52 cities around the world joined the fight.
We have influenced Government to get behind the largest Housing First Programme in the UK to see more than 830 of the most vulnerable individuals in Scotland get keys to their own home, built a Village in Edinburgh to address the seriousness of unsuitable temporary accommodation by providing a safe living environment for up to 20 individuals, and inspired more than 6000 young people in Scotland to believe in a future where no one should have to be homeless here, with our Wee Sleep Outs.
There are many different ways you can be a part of this inspiring movement; from taking on a challenge and fundraising on our behalf, spreading happiness by giving little and often through a monthly donation, volunteering your time or by entering Corporate Partnerships. Anything and everything counts.
Thank you!
DONATE NOW
All donations make a real difference; from helping to provide free food, offering employment opportunities or supporting residents at the Social Bite Village.
LIFESTYLE GIVING
Give little and often through activities you already do. Round up on purchases and donate them to charity, shop with Amazon Smile or register with Give as you Live.
FUNDRAISE
Whether its a bake sale at your work, or climbing Mount Everest you can fundraise in a number of ways and we're here to support you!
PAYING FORWARD
Through our Social Enterprise cafes we provide more than 140,000 items of food and drink each year with thanks to people paying forward what they can.
PARTNERSHIPS
Aligning your brand to Social Bite is a powerful way to increase employee engagement, build customer loyalty, and extend your company's commercial reach!
VOLUNTEER
Our volunteers are at the heart of what we do. From helping serve meals on christmas day to planting trees at the Social Bite Village, we couldn't do it without you.